Connecting Upper Harbor to Upper Wacker would reduce the traffic in front of most buildings by HALF. It was recommended by the Chicago Department of Planning in 2001 and endorsed by all 4 condominium presidents. However, the $8,000,000 connection was apparently "strongly objected to" by the developer. The 66-foot R.O.W. (right-of-way) between the Regatta and the Chandler was reserved for the future recommended improvement to reduce the traffic congestion of our current dead-end road system. There would be no worry of increased "through traffic" because there is no through traffic with the river-lake-park on three sides. We are effectively a peninsula with all traffic beginning and ending on Michigan Avenue.

This picture was taken after a false-alarm at the Shoreham on January 26, 2007 where over a dozen fire vehicles had to back out using the 195 driveway to turn around. It took nearly an hour for the fire department to get ready for the next emergency.

This is a good example why the City of Chicago Dept. of Planning (and all condo presidents) recommended that our New Eastside community required a second exit. (see letter below drafted by Chicago Dept. of Planning)

Using this location as an example of an everyday situation, if a resident wanted to depart the Park Shore garage and was traveling to O'Hare via the Kennedy, he would now have to turn south and exit via Randolph. When the future Harbor-Wacker connection is eventually completed (at taxpayer expense), that person would be able to turn north and use the Wacker exit.

Just the Harbor-Wacker connection would reduce the traffic throughout most of our current and future New Eastside community by almost HALF.

For your comments and suggestions to share with your neighbors.

All engines had to back into 195 Harbor driveway to return to the fire house because of our deadend road system.

This page was last updated: November 6, 2012
Richard M. Daley                                      Miguel d'Escoto                               Alicia Mazor Berg

Mayor                                                      Commissioner                                 Commissioner

City of Chicago                                         Dept. of Transporation                      Dept. of Planning & Development

City Hall, Rom 509                                    30 N. LaSalle St.                             City Hall

121 N. LaSalle Street                                 Suite 1100                                      10th Floor

Chicago, IL 60602                                      Chicago, IL 60602                            Chicago, IL 60602

Re: Upper Wacker Extension to Wacker Drive

       Prerequisite to The Lakeshore East Development

Dear Mayor Daley and Commissioners:

The 4,500 residents of Harbor Point, the Park Shore, Outer Drive East, and the Buckingham believe that the City must commit to extending Upper Wacker Drive to the proposed right of way of The Harbor Drive extension and that Lakeshore East LLC must commit to the construction of the Harbor Drive extension to Wacker Drive as a prerequisite to approving the proposed Lake Shore East Development Plan. This  essential traffic link is necessary to create dual access into the upper level of the planned development and existing residences. This improvement will create access for residents, guests, taxis, and emergency vehicles. Traffic flow will be diffused along the already congested upper level of Randolph, which currently provides the only vehicular access for existing residential high-rises. Furthermore, the Wacker Drive extension will provide a road for future development and an upper level sidewalk for pedestrian usage.

We believe that without this flow-thorugh effect, traffic will become more grid-locked, dangerous, and unworkable, and a successful urban neighborhood will not be accomplished. We recommend this solution to ameliorate some of our persistent traffic concerns. Thank you for your consideration and attention to this matter.

155 Harbor Drive Condominium Association                          The 400 Condominium Association

By:__________________________________                         By:_________________________________

        Alex Robinson, President                                                       Dennis J. Gates, President or

                                                                                                    John Marovich, Treasurer

The Buckingham Condominium Association                           The Park Shore Condominium Association

360 E. Randolph Blvd.                                                           195 North Harbor Drive

By:__________________________________                          By:_________________________________

          Susan L. Price, President                                                       Michael M. Cornett, President or

                                                                                                       Kristi Meinks, Treasurer

This recommendation was  presented on Friday, March 2, 2001 to the 4 condominium associations by the Chicago Department of Planning, and was  later"objected to" by the developer.

There was no public reason given why the Chicago Department of Planning was "over-ruled", and the savings to the developer has been estimated at $8,000,000.

The three persons representing the City of Chicago were Benet Haller, Christy __________, and Carmen __________.

March 5, 2001 LETTER

Recommended by Chicago

Dept. of Planning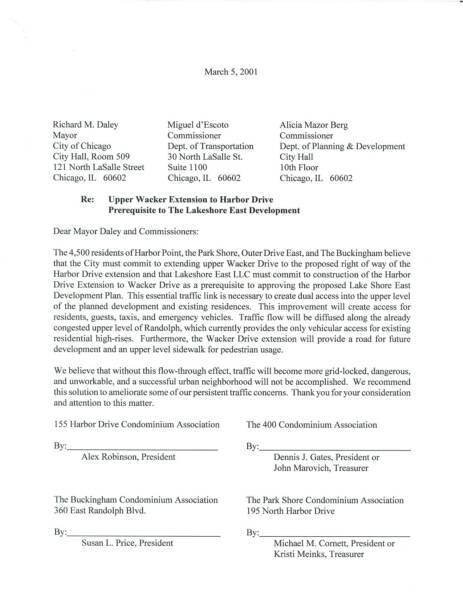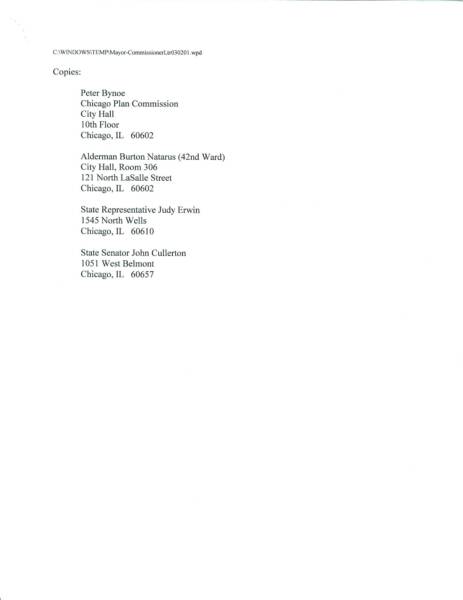 <---- C:\WINDOWS\TEMP\Mayor-CommissionerLtr030201.wpd

    This indicates that the letter was drafted by the Chicago        Department of Planning on March 2, 2001 using Word Perfect software.

<---- W:\BuckinghamZoning\Letters\RobinsonLtr030601.wpd

    This was a follow-up letter from the Buckingham attorney to the chairman of the meeting (Robinson) held in the private offices of Draper & Kramer, the 155 Harbor property management company.

Better quality copies are on file at the website offices.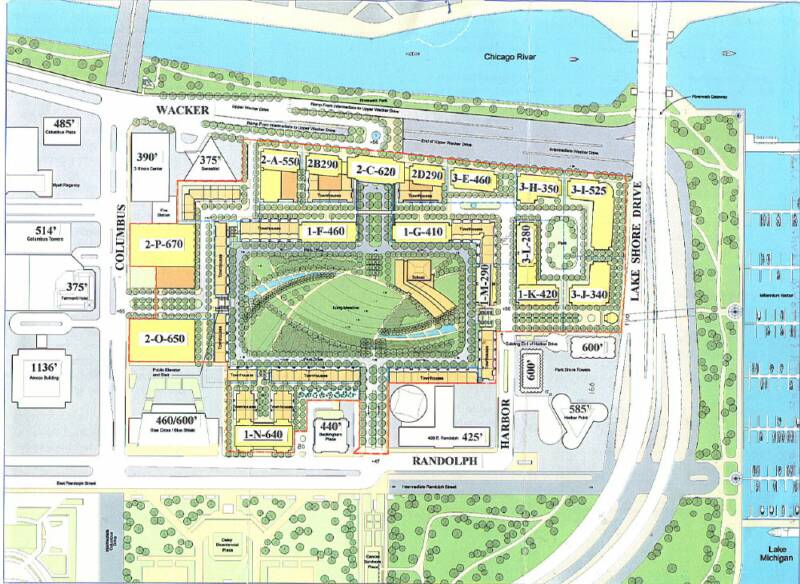 ONLY CURRENT   ENTRANCE-EXIT

CHICAGO DEPT of PLANNING RECOMMENDED 2nd UPPER ENTRANCE-EXIT (WACKER)

There wil never be a "THROUGH" traffic problem in the residential area of the New Eastside because all vehicles must start and end at Michigan Ave.

We are surrounded on 3 sides by water or park land.

All current and future traffic in the three red boxes must now use Randolph (unless using the lower street levels).

<--------66 foot Right-of-Way              Reserved For Extension