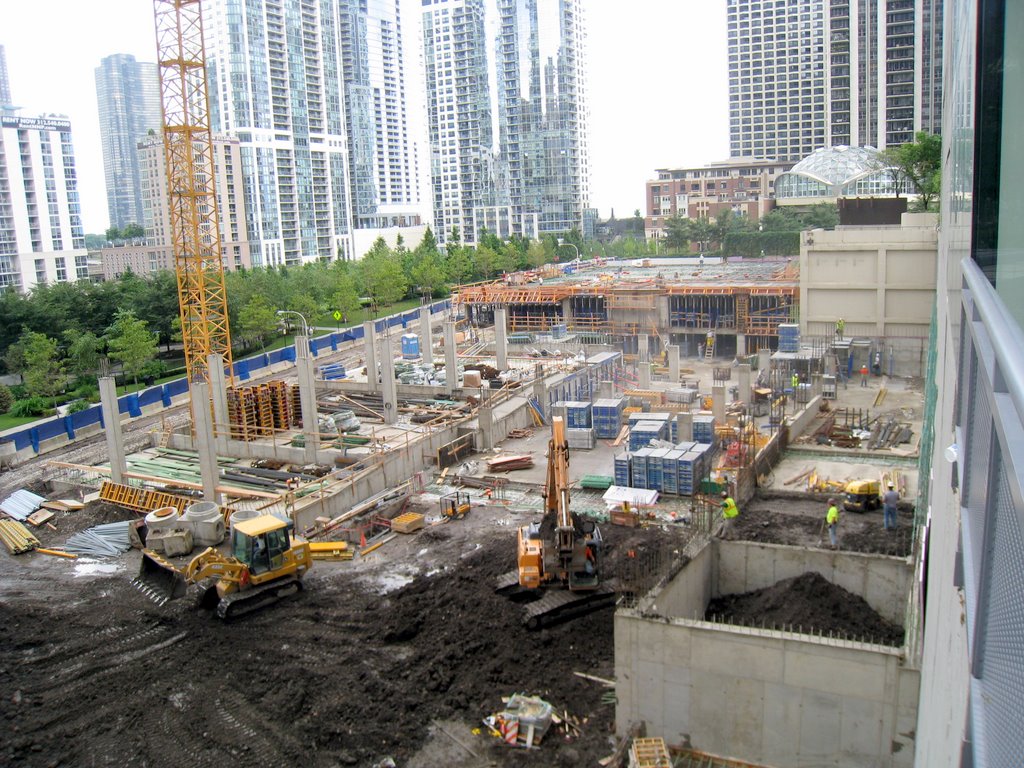 MARIANO'S  FRESH MARKET --- by ROUNDY'S

CHICAGO JOURNAL

04/07/2010

By IAN FULLERTON

Loop dwellers can expect to see a new full-service grocery store in their neighborhood by next year.

Roundy's Supermarkets is building 50,000 square foot store in the Lakeshore East condominium complex, 340 E. Randolph.

The $29 million project will also include 150 covered parking spaces and a new restaurant called III Forks, according to Brian Gordon, vice president of Magellan Development Group, the builder developing the area.

The grocery will face Lakeshore East Park, a facility at the center of the condominium towers that have sprouted in the Near Eastside, an area north of Grant and Millennium parks. The store will be named "Mariano's Fresh Market," in a nod to the company's chief executive Bob Mariano, who joined the firm in 2002 after a 27-year stint with the Chicago-based grocer Dominick's.

"We want our customers to know that Mariano's Fresh Market intends to be fully immersed in the fabric of our communities," Mariano said in a press statement. "We take this responsibility very seriously and are already developing plans to activate our long term dedication to the neighborhoods we will serve."

The new store will include a wine and spirits department, sushi bar and a selection of homeopathic remedies, according to the release.

A Roundy's spokesperson estimated that the store will create between 150 and 200 new jobs.

Designs for the Mariano's Fresh Market came into play after Magellan scrapped plans with grocer Treasure Island for a store at the site last year.

The neighborhood is home to a number of nearby grocery stores, some smaller and on the more upscale side, including Bockwinkel's on North Columbus Drive and another on North Harbor Drive, a Dominick's on East Grand and the über-posh Fox & Obel on East Illinois.

Gordon said the scale of the new Mariano's Fresh Market would set the store apart in the downtown district.

"It's more like a Whole Foods or a Dominick's Fresh Stores," than a Fox and Obel, he said. "I don't think you can get toilet paper or things like that there."

Richard Ward, president of the New Eastside Association of Residents, said the new Mariano's will be a welcome addition to the community.

He said his group had been "indirectly involved in the review process" of the new store, but had one unanswered question: "We are assuming that there would be a 'public pedestrian entry' to the new facility from Lower Field Drive, so our residents would have easier access in inclement weather," he wrote in an e-mail.

Gordon said that entrance won't be built, however.

Ty Tabing, executive director of the Chicago Loop Alliance, a business advocacy group, said that the project looks like a good bet.

The store would bode well with visitors to nearby Millennium Park looking for a place to pick up food for picnicking, said Tabing.

"I don't see a downside to it," he said.

A Roundy's spokesperson said the store was slated for completion by summer 2011.

Milwaukee-based Roundy's plans to open the first Marino's Fresh Market in Arlington Heights later this summer.

++++++++++++++++++++++++++++++++++++++++++++++++++++++


COMMENTS TO CHICAGO JOURNAL ARTICLE:

By Delphine Condon from Lakeshore East

Posted: 04/09/2010 12:00 PM

In response to Roundy chief executive Bob Mariano's comment regarding his committment "to the neighborhoods we will serve," I would hope that an entrance on Lower Field Drive will serve the Lakeshore East community. Del C. Lakeshore East

++++++++++++++++++++++++++++++++++++++++++++++++

By J.Will from New East Side

Posted: 04/09/2010 10:10 AM

Obviously Roundy's is building this for the visitors of Grant and Millennium Parks - not the actual residents in the area. They don't seem concerned with even convenience of entry for residents on foot. What a slap in the face. Welcome to the neighborhood.

++++++++++++++++++++++++++++++++++++++++++++++++

By Mary from Harbor Point

Posted: 04/09/2010 8:14 AM

An entrance on lower Field Drive would be very convienent. I hope they will reconsider.

++++++++++++++++++++++++++++++++++++++++++++++++

By John from Lakeshore east

Posted: 04/09/2010 10:27 AM

I agree that a pedestrian entrance on lower Field Drive would be great.

++++++++++++++++++++++++++++++++++++++++++++++++

            WEBSITE COMMENTS 

                September, 2010

There is an advantage to allowing local residents that know their community from experience, to review development plans.

Imagine you live at the Chandler, and it is snowing in January with a strong wind and 5 degrees temperature.  You would like to shop at Mariano's, but walking to the Shorham public elevator and across Lakeshore East Park would be a miserable journey.  You could walk the same distance in relative comfort on Lower Harbor, Lower Randolph, and Lower Field....but the "employee" DOOR WILL BE LOCKED.  So it is more comfortable to get in your car and drive to Dominick's on Illinois and Columbus, or Jewel on Roosevelt.

Hopefully this message will get to Mr. Robert Mariano, and he will convince Magellan to unlock the Lower Field door, and welcome their neighbors (customers) in comfort.

It would have been a good idea to invite residents to review the plans before starting construction.

Potential Walkway Access From Lower Field Employee Entrance to Public Garage, Elevators, and Village Market --->

There are 19 valuable comments as of September 14, 2010.