SIGNS TO LAKEFRONT AND NAVY PIER

Since Lake Shore Drive was rerouted east of Harbor Point about 17 years ago, thousands of persons walking east on Randolph from downtown Chicago to  Lake Michigan or Navy Pier have reached the end of Harbor Drive and did not know where to go. A few simple signs could have saved many families from being lost and asking for directions. The community's past attempts to fix the problem have been unsuccessful.  Hopefully this series of photographs will lead to an understanding of the problem and a solution.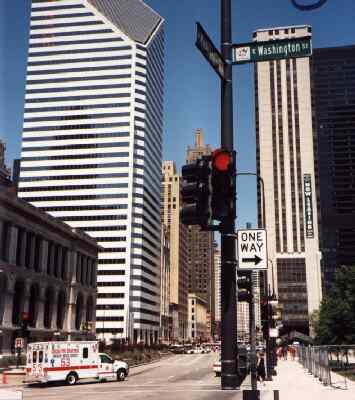 Walking north on Michigan  at Washington, families could be alerted to the alternative routes to the lakefront and Navy Pier. They could also use the new walkway just north of the ice rink. There should be separate signs for pedestrians so vehicle drivers will not impede traffic flow while reading a combined sign for cars and walkers.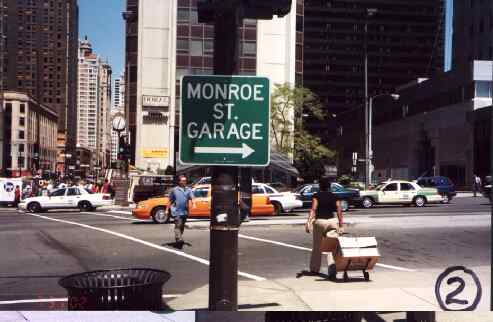 Pedestrians heading for the lakefront or Navy Pier should be directed to walk east on Randolph.

Vehicle traffic could be directed to turn also and either proceed east to Lake Shore Dr. or turn North on Columbus to Wacker, but the best route would be to continue to Wacker.

And remember, separate signs for walkers and drivers.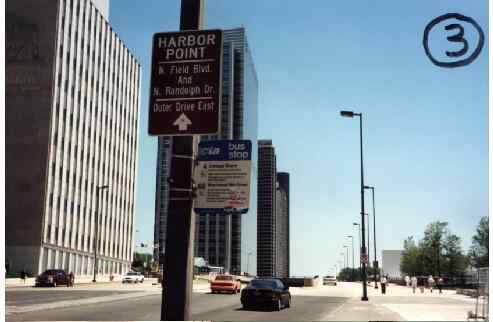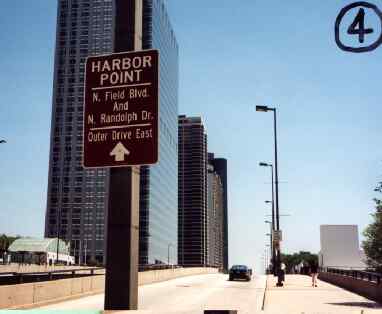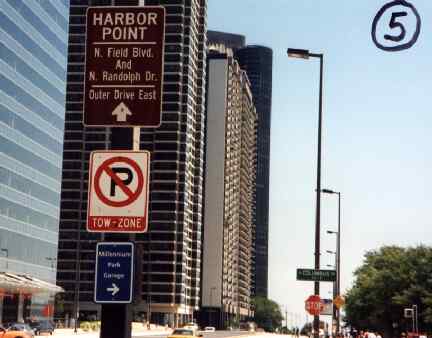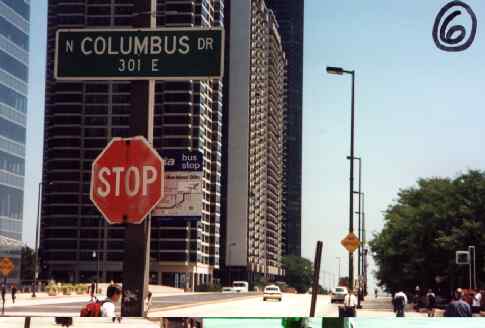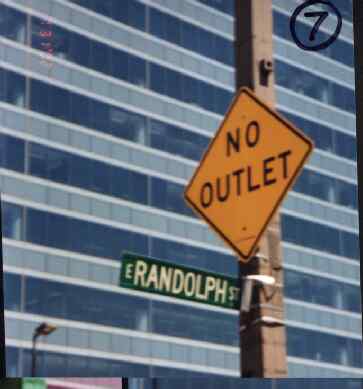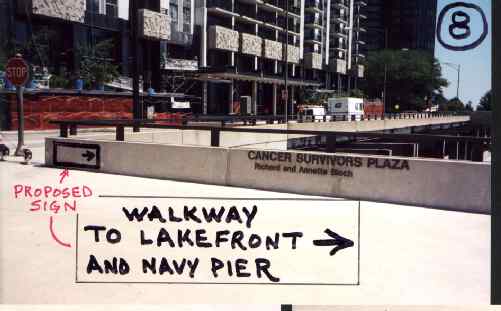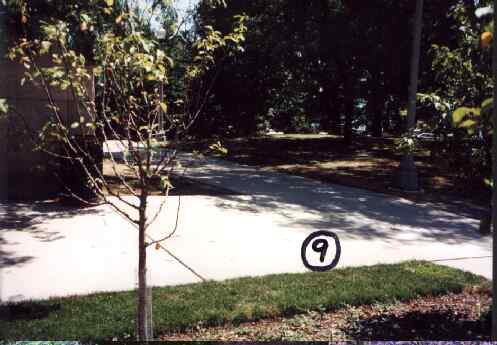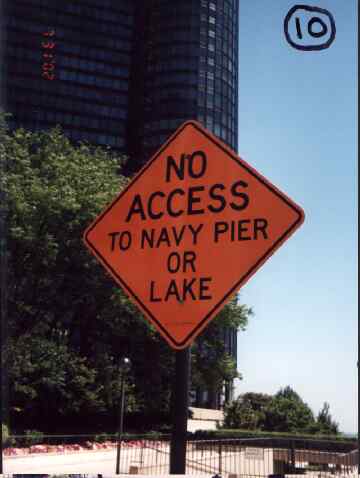 It is critical that a directional sign direct vehicle traffic either straight ahead to Lake Shore Dr. or to the right lane to Upper Randolph. Many of our visitors have been confused and then call on their cell phone for the complicated directions back to Upper Randolph (via the Water St. ramps or Lake Shore Dr. exits).

This would be a safe location to advise drivers wanting to go to Navy Pier - to turn left at Columbus. Then as they approach that intersection, another sign would direct them to turn east to Lower Lake Shore Drive over the river).

The right-turn sign to "Millennium Park Garage" should be changed to indicate it is intended for pedestrians walking to the garage entrance.

At Columbus, a left turn directional arrow "To Navy Pier for Vehicles" is needed.

The "no outlet"sign should be changed to read "no outlet for vehicles" because pedestrians now wonder if it is meant for them.

And, of course, persons walking to the lakefront or Navy Pier can either use the stairway in front of the Buckingham to get to Middle Randolph or persons walking on the south side of Randolph can turn right at the Cancer Survivors Plaza - and then east down the steps through Peanut Park.

It is absolutely essential that after all these years, we erect a sign that offers help to any pedestrians visiting our city or Chicago citizens who may be unfamiliar with the three-level roadway system in the New Eastside area. Thousands of persons over the past 17 years have experienced problems at this location.

About half-way down the walkway through the Cancer Survivors Plaza, an attractive sign alerting persons to turn left and down the stairs to Navy Pier and DuSable Harbor or straight ahead to Chicago (Monroe) Harbor.

(This would also be the disabled route to avoid the stairs.)

Finally, this misleading sign at the corner of Randolph and Harbor should be replaced with a sign that accurately advises drivers: "No vehicular access to Navy Pier or Lakefront. Vehicles return to northbound Columbus".

And a separate sign for pedestrians  to return to  the walkway through Cancer Survivors Plaza OR stairway in front of 360 Randolph for walkway to lakefront and Navy Pier. "

This page was last updated on: June 14, 2008
An email with a link to this page will be sent to Alderman Natarus with an advance copy to Nello Sabatini at the Chicago Department of Signs. We will keep the mailing list informed of our progress....  (Richard Ward, Website Administrator and CAPS Beat 124 Faciliator)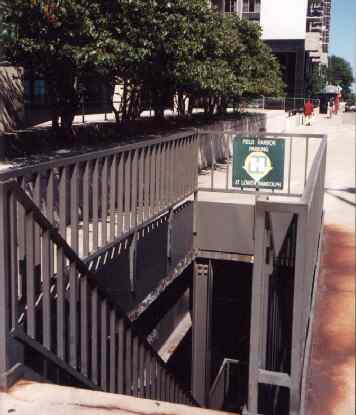 For pedestrians walking east on Randolph on the north side of the street, the last chance to reach the lakefront is this stairway at 360 Randolph down to "Middle Randolph". A sign must be posted: "One level down for Lakefront and Navy Pier. Two levels down for Harbor Parking Garage."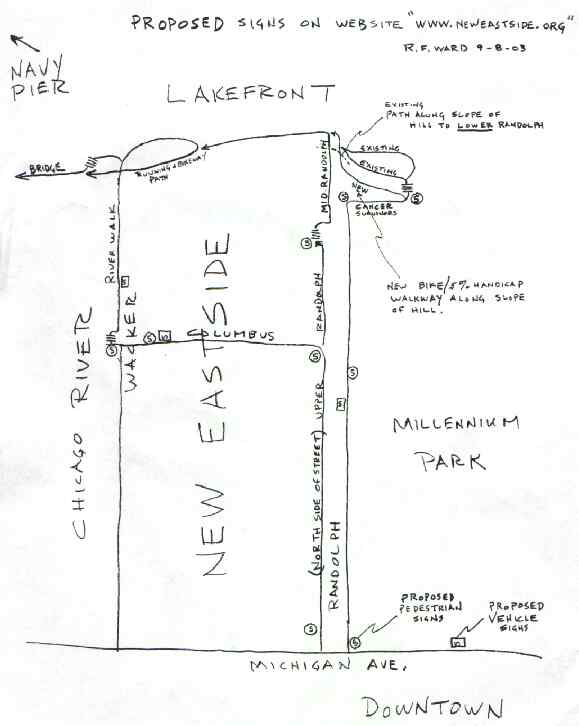 Update September 8, 2003....Commander John Risley of the 1st Police District arranged for a walking tour with the Chicago Department of Transporation 1st Deputy Commissioner Richard Kinczyk and John McDonough. These are the notes that Richard Ward used to explain the recommended separate signs for both pedestrians and vehicles. Both CDOT persons understand the problem. Commander Risley and Richard Ward are confident that new signs will soon be posted to guide pedestrians and vehicles along the different routes to the Lakefront and Navy Pier.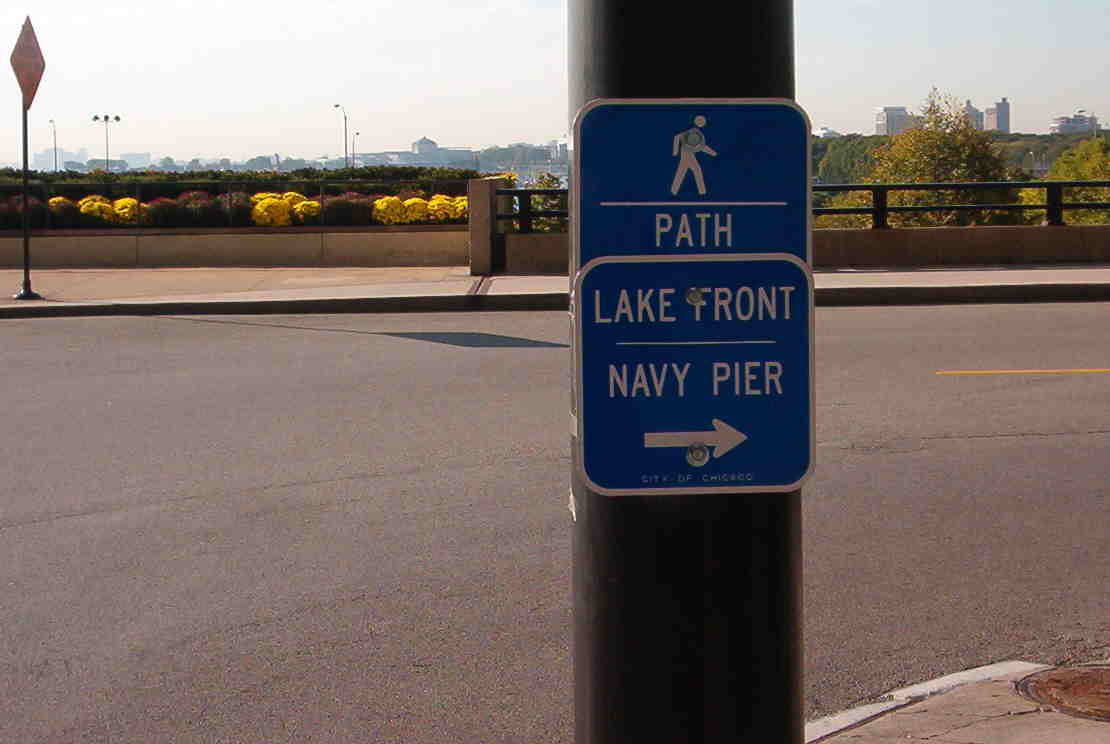 Nearly a dozen directional signs for vehicles and also pedistrian signs (like this sign at Randolph and Harbor) were erected by  CDOT supervisor Deidre Holmes and her crew  during the first week of October, 2003.

We wish to thank 1st District Police Commander John Risley for arranging the meeting with CDOT 1st Deputy  Commissioner Richard Kinczyk and engineer John McDonough.

The visitors to our great city will be forever thankful for the helpful guidance.