June 28, 2010

DW Studios Productions LLC is proposing to film scenes in your neighborhood for the upcoming motion picture "Transformers 3."  One of the scenes will involve stuntmen skydiving from helicopters and deploying parachutes at low altitude while being filmed from a second helicopter with a camera. Currently we are proposing to film this activity the morning of Sunday, July 11th from 7:00 a.m.-10:00 a.m. Due to the nature of this activity we are required to perform intermittent traffic control (ITC) of both vehicles and pedestrians underneath the path of the skydivers for the safety of the general public. The ITC will be temporary and last less than 15 minutes, but it will take place several times throughout the morning as we film multiple jumps.

It is likely that if you are in the "lock-up" perimeter just before a jump you will be asked to wait outside of the skydivers path or inside a building that offers protection. During our filming the Chicago Police Department will be onsite to perform intermittent traffic control of vehicular traffic within the perimeter. There will be many Production Representatives on-hand to inform you when a lock-up will start and will also be able to suggest alternate routes to your location should your path be blocked for a few minutes. After the jump, the streets will reopen allowing traffic to return to normal as quickly as possible. All three levels of Wacker, plus Middle and Lower Columbus will not be affected by the lock-up.  All Randolph traffic from Michigan to Upper and Middle Columbus, plus Field Dr. and the Park Rim Roads will be subject to temporary closure for a maximum of 15 minutes during several jumps. Garage exits on Lower Wacker, Harbor, and Randolph, and the Lower/Middle Columbus ramps will not be affected for arriving/departing residents.

We are proposing to film these activities in the area on Sunday, July 11, between the hours of 7:00 a.m. – 10:00 a.m, weather permitting. In the event the weather forecast is better on the preceding day, we may request to accomplish this work on Saturday, July 10.

Lake Shore East Park is the proposed landing zone for the skydivers. Areas of the park and the surrounding streets and sidewalk will be subject to intermittent closures during the actual jumps. We would need to clear these areas of the park a few minutes at a time for the safety of the public. It will include the dog park and the playground.

PLEASE BE ADVISED THAT THE FOLLOWING STREETS WILL BE SUBJECT TO TEMPORARY CLOSURE FOR ALL PEDESTRIANS AND VEHICLES:

JULY 10 OR JULY 11 (7AM – 10AM)

•

Randolph St. from Michigan Ave. to N. Field Blvd.
•

Beaubien Ct. from Randolph to Lake Street
•

Stetson Ave. from Randolph to Lake Street
•

Columbus Dr. from Randolph St. to E. South Water Street
PLEASE NOTE:  AN ADDITIONAL FULL CLOSURE OF LA SALLE STREET BETWEEN JACKSON AND RANDOLPH WILL BE IN EFFECT DURING THIS DAY.

We are excited to feature the City of Chicago as a major location for this film and are proud of the support of the Mayor's office and various city departments through the coordination of the Chicago Film Office. We thank you for your patience and understanding during the filming process. For further information, you may contact Michael Wesley on his cellphone at (818) 517-6271 or leave a message with our Production office at (312) 464-9502

Sincerely,

Michael Wesley

Key Assistant Location Manager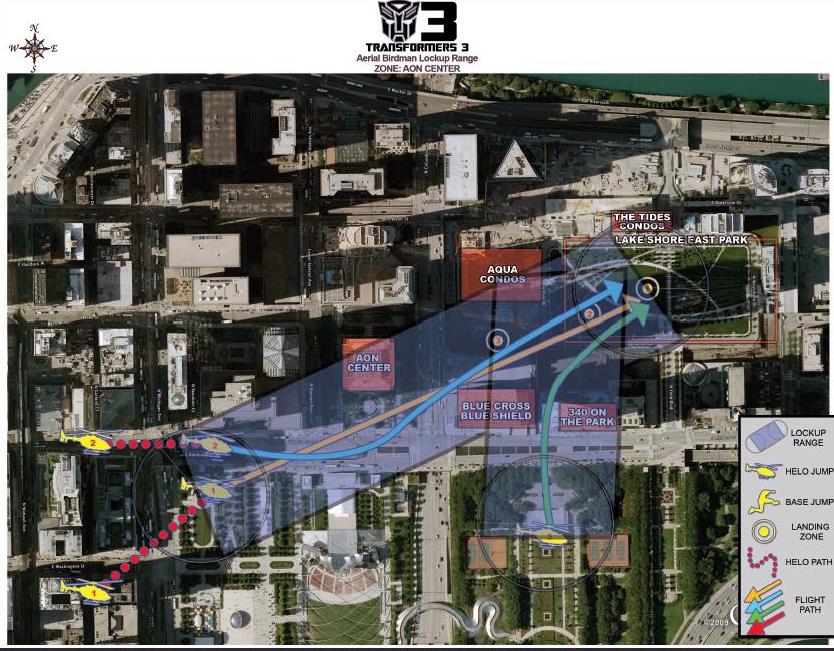 This is planned to be the #1 flight path.

To Primary Filming Date

Sunday, July 11, 2010

Tim Burdick

Chicago Park District

541 N. Fairbanks

Chicago, IL 60611

Mr. Burdick, I had two meetings and several phone discussions with Michael Wesley, the Key Assistant Location Manager for DW Studios Productions LLC/Transformers 3.   The New Eastside Association of Residents (NEAR) supports the proposed filming of "Birdman" skydivers using the airspace over Grant Park, Randolph St., Columbus Dr., and Lakeshore East Park.  It is our understanding that several planned 15-minute road and park area closures will be well-supervised by a combination of film production personnel and Chicago and park district security police.  We have agreed to help communicate the proposed activities (and any last minute changes), using our 1100 resident email addresses linked to a descriptive web page www.neweastside.org/transformers3.html .  We believe the minor inconveniences will be more than offset by the opportunity and excitement of highlighting the New Eastside area and Chicago's beautiful front yard.  We are comfortable with the experience of the Chicago Film Office's role in recommending approval of the filming, and in the FAA's approval of the flight operations.

We look forward to the planned activity on Sunday, July 11, 2010 between 7am and 10am, with a weather alternative on Saturday, July 10th ,if necessary.

If you need confirmation of this email, please contact me directly by phone or email.

Sincerely, Richard F. Ward

---

Richard F. Ward, President, NEAR

New Eastside Association of Residents

155 N. Harbor Dr. #5101

Chicago, IL 60601

Phone Link (312) 473-7931

www.NewEastside.ORG

Add Free Alerts, Change, or Unsubscribe at:

http://neweastside.org/MailLists.html