This picture was taken November 6, 2003 while the remaining bouys were being removed. This is the point where the proposed Adams Pier (1500 foot by 40 foot) would extend Grant Park by 1 1/2 acres according to the the park district officials. Everyone agrees that this is a beautiful "unobstructed view". Keep this view in your mind as you scroll down to the picture of DeSable Harbor that was taken a few minutes later by Richard Ward.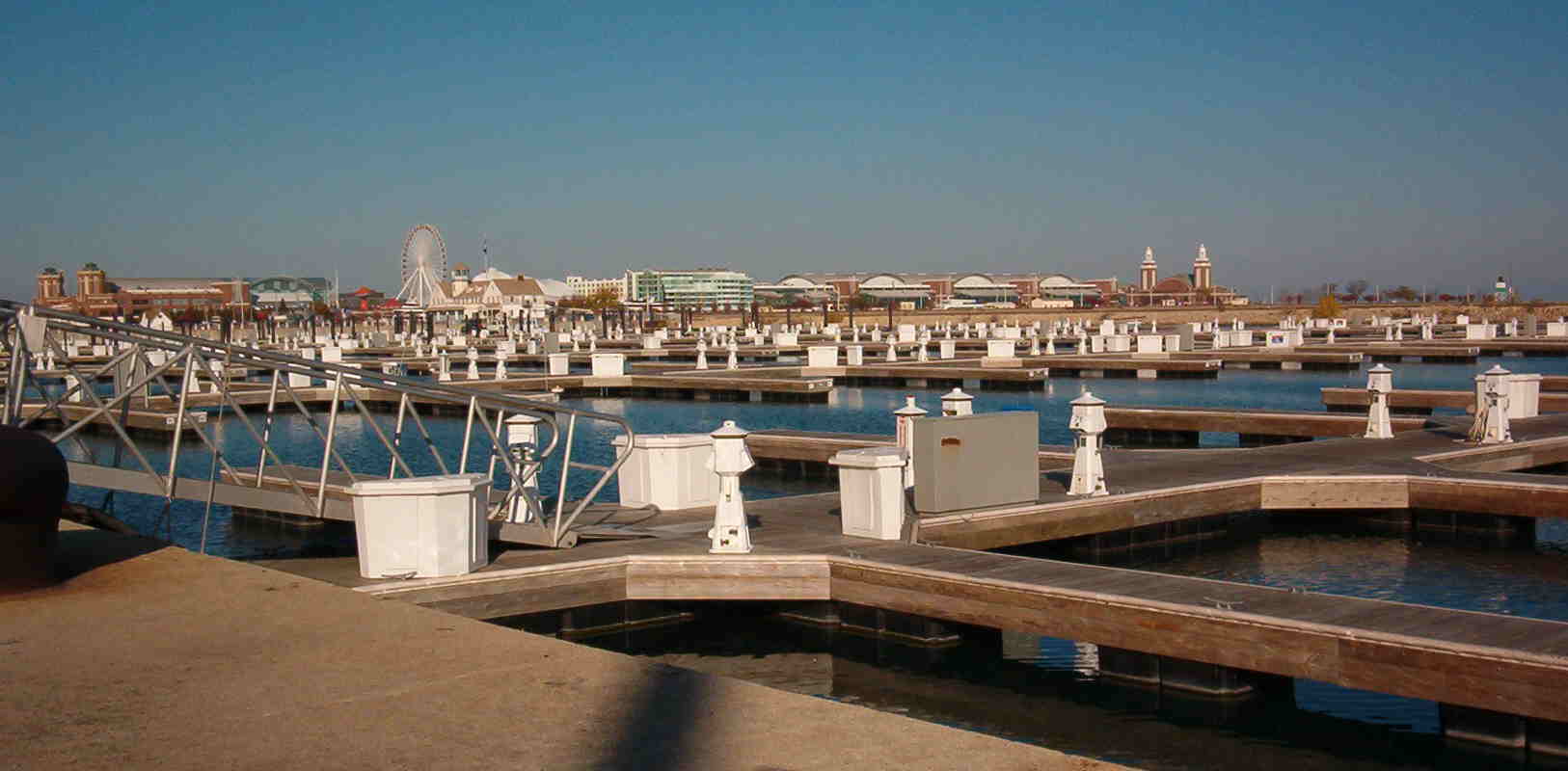 We do not think that anyone could successfully argue that this winter picture of DuSable Harbor is "unobstructed".  Actually the proposed Monroe "Marina" would "obstruct" the entire view of the open water in the previous picture and would look much worse because it would be twice as wide.

And remember, the Illinois Supreme Court has repeatedly confirmed that the original 1836 dedication restrictions between Randolph and 12th, have been extended to the submerged lake front lands as they have been filled in over the past 167 years.

It may be good to again review the wording of the 1836 Covenant that according to the the Illinois Supreme Court cannot be changed by the state legislature, the city council, the county board, or the park district board:

"Public Ground - A Common to Remain Forever Open, Clear and Free of any Buildings, or Other Obstructions whatever."

Can anyone, even the park district officials, really claim that a permanent 900-boat marina in the northern third of our historically open Monroe Harbor, is open, clear, and free of any obstructions whatever?

You may desire to review the previous two web pages that contain many other graphics and pictures...May, 2003...and/or....July, 2003.
We are preparing another webpage that will present alternative sites for 3000 new slips, that do not have the dedication restrictions that protect the lakefront adjacent to Grant Park, the city's formal and historic front-yard.

This page was last updated on: June 14, 2008
Or                     to the NewEastside Homepage Index